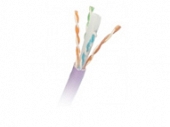 Data Cables are the lifeblood of a company's IT infrastructure and are always evolving to allow for greater speeds and bandwidth.
Copper cabling is always evolving to keep up with new processor speeds, software applications and protocols. Cat5 (10/100Mbps) was always deemed to be sufficient a few years back but even that is now obsolete. We have seen the change from Cat5 to Cat5e and then to Cat6. Cat5e again was the installation of choice as it could send gigabit over the network. But recently around 80% of new installs are in Cat6 as this allows for the maximum life span and return on investment. Also due to how Cat6 is manufactured it allows for less repeat transmissions and network down time. New developments in cabling now allow for Cat6a and even Cat7 cables. These are not too common at present but as history has shown, these cabling systems will be the preferred choice in the not so near future. 54.99% of our services offering are purly installing copper cabling systems.
Structured Cabling systems provide a universal platform for transferring data, voice and multimedia applications around premises.
It provides the following features:


It allows you to replace multiple wiring systems with a single, unified infrastructure, with the ability to carry data in any format, from voice through to video.
It carries a high bandwidth which means it can support emerging applications, such as IP telephony.
It is more cost effective than investing in two discrete cabling networks and is generally easier to manage.
It allows to you to make moves and changes quickly. You can plug in and start working straight away, regardless of whether you change desks, move floors or restructure whole departments.